Heart Healthy Recipes for Seniors that Actually Taste Good
February has been designated National American Heart Month to help bring awareness about heart disease, its symptoms, and ways you can prevent it. If you're a senior adult who is taking your heart health into consideration, it's not uncommon to assume all alcohol, sweets, and pretty much anything else enjoyable to eat is off limits, even during special occasions.
However, it is possible to welcome all of the candy-filled, sugar-coated holidays without despair, as there are plenty of heart healthy treats to enjoy that are just as sweet and decadent as their less healthy counterparts. For example, having dark chocolate and red wine is a delicious and heart healthy way to celebrate a special occasion like Valentine's Day or a wedding anniversary.
If you enjoy whipping up some homemade deliciousness in your kitchen, the Mayo Clinic has some great heart healthy recipes you can try. Not only are these recipes super tasty, but they're also easy and fun to make. We've added a few of our favorites here, and many more can be found on the Mayo Clinic's Heart Healthy Dessert Recipes page.
Heart Healthy Treats
Creamy Fruit Dessert. With cream cheese, sweet chunks of fruit, and toasted coconut, you will love this dessert while also loving your heart.
Ingredients: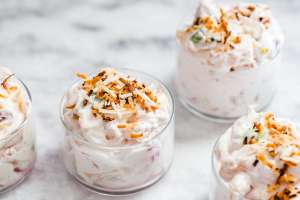 4 ounces of fat-free cream cheese, softened
1/2 cup plain, fat-free yogurt
1 teaspoon of sugar
1/2 teaspoon of vanilla
1 can (11 ounces) of mandarin oranges, drained
1 can (8.25 ounces) of water-packed sliced peaches, drained
1 can (8 ounces) of water-packed pineapple chunks, drained
4 tablespoons of shredded coconut, toasted
 Directions:
In a small bowl, combine the cream cheese, yogurt, sugar and vanilla. Using an electric mixer on high speed, beat until smooth. In a separate bowl, combine the oranges, peaches and pineapple. Add the cream cheese mixture and fold together. Cover and refrigerate until well-chilled. Transfer to a serving bowl or individual bowls, garnish with shredded coconut, and serve.
Grilled Angel Food Cake with Strawberry Rhubarb Sauce. This is not your average angel food cake! Grill and enjoy this treat outside on a breezy afternoon. It's heaven for your taste buds, and your heart.
Ingredients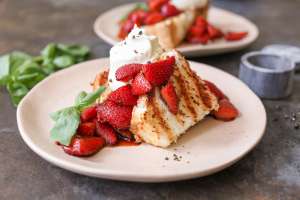 1 ½ cups of strawberries, chopped
1/2 cup sugar
6 tablespoons  of water
1 ¾ teaspoons of vanilla
1/8 teaspoon cinnamon
1 prepared angel food cake, cut into 6 pieces
3/4 cup reduced-fat whipped topping
Directions
Heat up a charcoal grill, gas grill, or cast iron grill pan. Lightly coat the grill rack or inside of the pan with cooking spray. (Be sure to do this while facing away from the heat source.) If you're using a cooking rack, position it 4 to 6 inches from the heat.
To make the sauce, combine the strawberries, rhubarb, sugar, water, vanilla, and cinnamon in a sauce pan. Cook on medium heat until the mixture starts to boil, about 5 minutes. Remove the saucepan from the heat and set aside. Place the slices of angel food cake on the grill or in the grill pan. If you're using a grill, place the slices of cake toward the edge of the rack where there is less heat. Grill each slice until both side turns brown, about 1 to 3 minutes.
Place the angel food cake on individual serving plates and top with 1/4 cup of the strawberry-rhubarb sauce. Add 2 tablespoons of the whipped topping and enjoy.
Chocolate Espresso Pudding. This dessert is like a mocha lover's dream that is so chocolatey, you won't even mind that it's made with heart healthy flax seeds.
Ingredients
1 tablespoon ground flax seeds (flax meal)
3 tablespoons brewed espresso
2 1/4 cups skim milk, divided
2/3 cup sugar, divided
1/8 teaspoon salt
2/3 cup unsweetened cocoa powder
1 teaspoon vanilla extract
2 tablespoons cornstarch
Directions
In a medium bowl, lightly mix the ground flax seeds or flax meal together with the warm espresso. Set aside. In a saucepan, combine 1 ½ cups milk, 1/3 cup sugar, and the salt. Bring to a simmer over medium heat, stirring occasionally.
Meanwhile, whisk the remaining 1/3 cup sugar, cocoa powder and cornstarch in a bowl. Then whisk in the remaining 3/4 cup of milk until blended. Whisk the simmering milk mixture into the cocoa mixture. Pour the mixture back into the saucepan and bring it to a simmer over medium heat, whisking constantly, until thickened and glossy, about 3 minutes. Remove from heat.
Whisk about 1 cup of the hot cocoa mixture into the beaten flax seeds. Add this mixture to the saucepan and cook over medium-low heat, whisking constantly, until steaming and thickened, about 2 minutes. Be sure not to let the mixture boil. Whisk in vanilla and serve warm.
Heart Healthy Nutrition for Older Adults
For seniors looking to indulge their sweet tooth without causing undue stress to their heart, these tasty treats are a great choice. For aging adults in need of regular meals and proper nutrition, Grand Oaks of Palm City offers a variety of chef-prepared dishes with the perfect balance of healthy goodness and tantalizing taste.
For more information or to schedule a tour, contact Beth Kelley at 772-529-6000 or beth.kelley@grandoakspc.com.