Fun Fall Crafts for Seniors
There's something special about fall. The temperature is getting cooler, the leaves are changing, and the scent of pumpkin spice seems to fill the air no matter where you go. Fall is also a great time to do some crafting! Try these fun fall crafts for seniors to add some festivity to your home. If you're feeling generous, they also make great gifts!
Shimmery Pumpkin Vase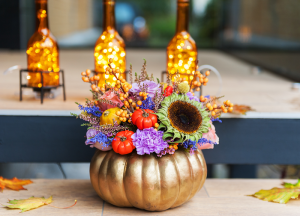 This shimmering centerpiece is deceivingly simple to make. First, carve out the inside of a pumpkin, the same way you would if you were making a jack-o-lantern. Next, take some acrylic craft paint or spray paint and paint the outside of the pumpkin. A metallic paint covers the tiny flaws in the pumpkin and creates a glossy finish. Then, drop a mason jar (or a plastic bottle with the top cut off) inside the pumpkin to act as a vase. Fill the vase with seasonal flowers like dahlias, chrysanthemums, and begonias. You can also add some faux berries, fall leaves, and miniature gourds for the perfect fall centerpiece!
Fall Fruit and Leaves Wreath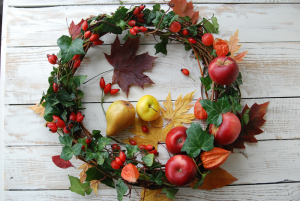 You can't get more seasonal than a homemade wreath with lots of fall fruit and pretty autumn leaves. For this craft, you'll need a grapevine wreath, several pieces of faux apples, pears or other fall fruits, faux greenery such as ivy, eucalyptus or berries, some fall leaves, real or fake in a variety of shapes and colors, a hot glue gun and lots of glue sticks.
Start by securing the fruit to the wreath with a generous amount of hot glue. Gluing pieces of fruit to each other adds extra stability. Then, fill in the spaces between the fruit with the leaves, gluing each one to the wreath with the glue gun. Add your greenery, securing with glue, all around the wreath. If you're feeling extra creative, you can add a festive bow.
Autumn Leaf Luminaries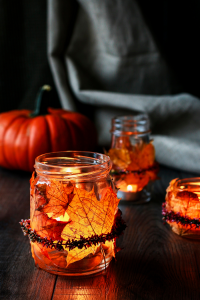 This is a fun and easy craft for seniors that the whole family can enjoy, especially the grand kids. For this craft, you'll need clean Mason jars, Mod Podge decoupage glue, some pretty fall leaves (real or faux, but silk leaves tend to work best), and a paint brush or sponge. Begin by painting a thin layer of Mod Podge on a Mason jar. Let it dry until slightly tacky and then add a leaf, making sure to press down and smooth out the edges. Paint more Mod Podge on top of the leaf in thin layers. Repeat the process until you have as many leaves on the jar as you'd like. Once dry, put a tea light inside and light up your pretty luminary!
Did you know that craft-related activities help keep your brain active, increases self-esteem, and elevates your mood? These are just some of the reasons we offer several different crafting classes at Grand Oaks of Palm City. For more information, call (772) 324-5024 today.